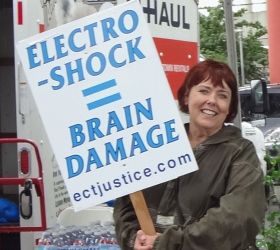 Our purpose is to gather information from other ECT survivors with the purpose of improving standards in the consent process, improving safety, and potentially filing a potential class action lawsuit.
If you feel you have suffered permanent injury from the use of ECT or the use of ECT on your person was not fully explained in the consent process then we hope you will fill out our ECT questionnaire. In gathering information from the questionnaire we expect to find commonalities among survivors that will empower us to effect change in the use of ECT as a therapy modality for mental illness and Parkinson's disease and to ultimately stop its use in its current form.
If you have suffered memory loss or cognitive issues following ECT, it is important to have documentation of loss. If you are able, seek neuro/cognitive testing from a psychologist who is certified in this area. Ask for a copy of these results for your personal record. For the record you may also want to request an EEG from a qualified neurologist and retain a copy of the results once the report is complete.
It is our hope that together we can and will be a voice that is heard and the use of ECT will be eliminated. If you are an ECT survivor please know that you are not alone! Together we can make a difference.
Thank you for taking the time to fill out our ECT Questionnaire to the best of your ability.